V.I.P. concert at 30 Hudson Yards Virtual Festival Broadcasted on July 9
The annual summer festival hosted by The Nippon Club was held at 30 Hudson Yards on June 25. It was to provide both performance opportunities and financial support for the Metropolitan Opera Orchestra, whose performances have been suspended since March 2020 while the theater remains closed. The Metropolitan Opera is scheduled to resume performances in September, but musicians are going through a very difficult time with no income for over a year.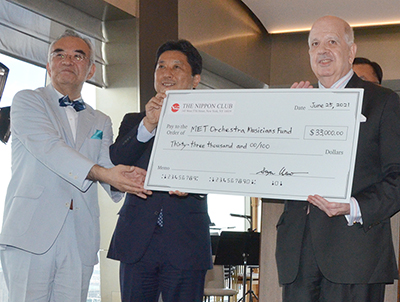 On the day of the festival, Sayu Ueno, president of The Nippon Club, gave a check for $33,000 to John Brewer, head of the Metropolitan Opera. 65 invited guests enjoyed the V.I.P. concert.
   Mariko Anraku, harpist and the only Japanese member of the orchestra, said, "I was really moved because I could perform with my colleagues without a mask in front of the audience for the first time in a while. Since music is like oxygen for musicians, we were really happy from the time we started rehearsals a couple of days ago. I'd like to say thank you to The Nippon Club and everyone who supported us."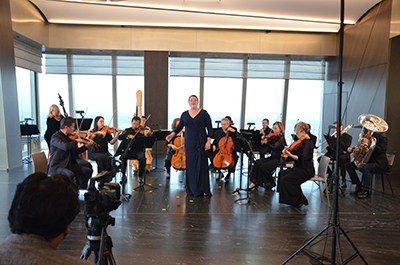 The Virtual Summer Festival, featuring footage of the V.I.P. concert with commentary by Mariko Anraku, was broadcasted by The Nippon Club on July 9 at 7 p.m. The participation fee included a special bento box prepared by The Nippon Club's chef. To stay up to date with The Nippon Club, visit their website at https://www.nipponclub.org.
 (Ryoichi Miura/Translated by Madoka Nakashima/ Associate Editor Ashley Matarama)